26 Jun 2023
5th Edition of Speciality Food & Drinks Asia to Reunite and Reinvigorate Fine Food and Drinks Sector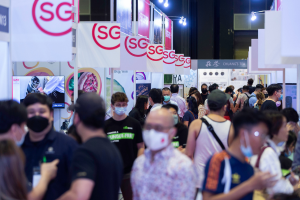 Co-located with Food2Go, SFDA 2023 introduces an exciting lineup of events and competitions, including the inaugural Big Idea Food Competition organised by Big Idea Ventures
Singapore, 26 June 2023 – Asia's premier fine food and beverage show, Speciality Food & Drinks Asia (SFDA) 2023 is touching down in Singapore for its fifth edition from 26 to 28 September 2023 at Marina Bay Sands Expo & Convention Centre. Previously known as Speciality & Fine Food Asia (SFFA), SFDA 2023 will bring together the entire F&B industry and include restaurants, pubs and bars; meat and poultry; and speciality coffee and tea. Co-located with the second edition of takeaway and delivery show Food2Go, SFDA is expected to host up to 8,000 trade visitors and over 200 exhibitors from across the region.
SFDA organiser Montgomery Asia has also partnered with Big Idea Ventures (BIV) – the most active FoodTech investor in the world – to host the international finals of the first-ever Big Idea Food Competition at SFDA 2023. Focused on identifying the best in alternative protein, this is one of three competitions set to elevate the atmosphere at SFDA 2023.
Christopher McCuin, Managing Director of Montgomery Asia, said, "Following four highly successful editions, SFDA will once again bring the F&B industry together at a brand-new venue with a larger show floor for an unparalleled opportunity to source and network among industry players from across the region. With more international brands and products coming on board as exhibitors, and more onsite demonstrations, trade visitors can expect to be exposed to the latest and most innovative developments within the market. Our partnership with Big Idea Ventures will open new doors and spur robust conversations on alternative and sustainable protein sources."
Exciting line-up of demonstrations, innovations and products
Embark on a journey at the Fine Food Live Stage to indulge in exhilarating presentations and awe-inspiring chef demonstrations on the latest food preparation techniques and catch the highly anticipated inaugural ASEAN Butchery Competition.
The Innovation Stage boasts a carefully curated three-day programme on the latest trends and breakthroughs in food delivery and takeaway innovations, featuring panel discussions with thought leaders from industry players such as Grab, foodpanda and Deliveroo, among others.
The Tap Room will be a refreshing pitstop for visitors to taste the industry's finest and newest brews.
A series of exciting competitions
SFDA 2023 will house a total of three competitions, each focusing on varying aspects of speciality food and drink.
Big Idea Ventures (BIV), the global leader in early-stage investments in the alternative protein sector, is holding the Big Idea Food Competition (BIFC) Finals in partnership with Montgomery Asia this year. The BIFC is an initiative focused on building new entrepreneurial ecosystems, identifying world-class talent and investing in the future of food entrepreneurs across Asia. It has brought together corporates, food leaders, experts and investors working in the alternative protein sector in 6 different countries over the past year: Singapore, Japan, South Korea, Thailand, Indonesia and China. The BIFC winner from each country will be travelling to Singapore in September 2023 to compete for the Grand Prize - a US$200,000 investment package - and automatic inclusion into Big Idea Venture's Cohort #8 accelerator program.
"As the global leading investor in alternative protein, we are excited to be pioneering the first competition dedicated to plant-based innovation in Asia. The Big Idea Food Competition has helped us discover great new alternative protein companies, showing the strength of business and innovation in Asia. We thank all our partners in Asia for joining us on this journey and look forward to seeing everyone at the final competition in Singapore in September," said Andrew D. Ive, Big Idea Ventures Founder and General Managing Partner.
The Singapore National Coffee Championship is back once again to showcase the country's top talents in coffee-making and advance the barista profession. Organised by the Singapore Coffee Association in partnership with Speciality Coffee & Tea Asia (SCTA), the must-attend championship comprises the Singapore National Latte Art Championship, Singapore Cup Tasters Championship, Singapore National Barista Championship and the Singapore National Brewers Cup. The competitions are predicted to be fierce, with winners representing Singapore in the World Coffee Championships held worldwide in 2024.
Victor Mah, President of the Singapore Coffee Association, said, "Last year's edition of the Singapore National Coffee Championship was a huge success, with our Singapore National Brewers Cup winner Elysia Tan even going on to clinch 2nd Runner Up at the World Brewers Cup 2022 in Australia! We're excited to host the four competitions at SCTA once again, to provide a platform for the next generation of baristas to present their innovative ideas and push the coffee industry to the next level."
The inaugural ASEAN Butchery Competition, hosted by Montgomery Asia and the Meat Traders Association Singapore (MTA), will witness the gathering of meat professionals from across the region to showcase their fine workmanship skills in meat carving and presentation. Register by 16th July to stand a chance to stand on stage with fellow butchers and compete for the title of ASEAN's best butcher and the grand prize of S$5,000. Applications are open here from now till 16 July for aspiring competitors.
Alvin Kwek, President of the Meat Traders Association Singapore, said, "Our plan to launch the first-ever ASEAN Butchery Competition has been in the works since 2021. We're thrilled to bring our efforts to fruition and look forward to witnessing meat professionals from the region congregate on the competition stage. It is encouraging to see SFDA providing a rare platform for the meat industry across ASEAN to gather for the first time in years and we're looking forward to seeing major players from the region together on the same exhibition stage."
Backed by leading industry associations and sponsors
As the region's leading F&B trade event, SFDA 2023 is supported by leading industry partners. Strategic Partners include the Singapore Coffee Association, Singapore Food Manufacturers' Association, Meat Traders Association, and the Singapore Manufacturing Federation – which is also the leading partner of Food2Go. Supporting Partners of the event include the Club Managers Association of Singapore, Association of Catering Professionals Singapore, and many more. The event is also supported by the Singapore Exhibition & Convention Bureau.
Pre-registration is open!
To express interest in attending as a visitor, pre-register here.
Apply to participate as a sponsor or exhibitor here.
###
About Speciality Food & Drinks Asia
Organised by Montgomery Asia, Speciality Food & Drinks Asia (SFDA) is Southeast Asia's leading trade show for artisan, gourmet and fine food and drink spanning the entire F&B industry to include restaurants, pubs and bars, meat and poultry, and speciality coffee and tea. SFDA seeks to connect gourmet, innovative and unique food & drink producers and purveyors with decision-makers in the retail, food service and hospitality sectors, providing companies with an excellent platform to discover new trends, expand their business and reach the right buyers. The fifth edition of the show will be held from 26 to 28 September at Marina Bay Sands Expo & Convention Centre Singapore and will feature an expanded programme line-up including fringe events, competitions, as well as a more diverse range of chefs, bartenders and speciality food and drink products and technologies.
Visit website: https://www.sfdasia.com/
About Food2Go
Food2Go is the B2B F&B takeaway & delivery services event and one-stop sourcing platform for all your business needs in this fast-growth industry. Food2Go is the most targeted and focused business platform for you to expand the Takeaway & Delivery elements of your business in Southeast Asia!
Visit website: https://food2go.asia/
About Montgomery Asia
Established in 2016, Montgomery Asia is a fully-owned subsidiary of UK-based Montgomery Group, one of the most widely respected exhibition companies in the world since 1895. It focuses on the growing Asian market, bringing the group's flagship events to this region as well as developing new trade shows that meet the needs of the Asian market.
Visit website: http://www.montgomerygroup.com/asia/
Media Contacts:
Ariel Tan
Montgomery Asia
ariel@montgomerygroup.com
Jo-Ann Teo
Blue Totem Communications
SFDA@bluetotem.co