Fu Luxe Pte Ltd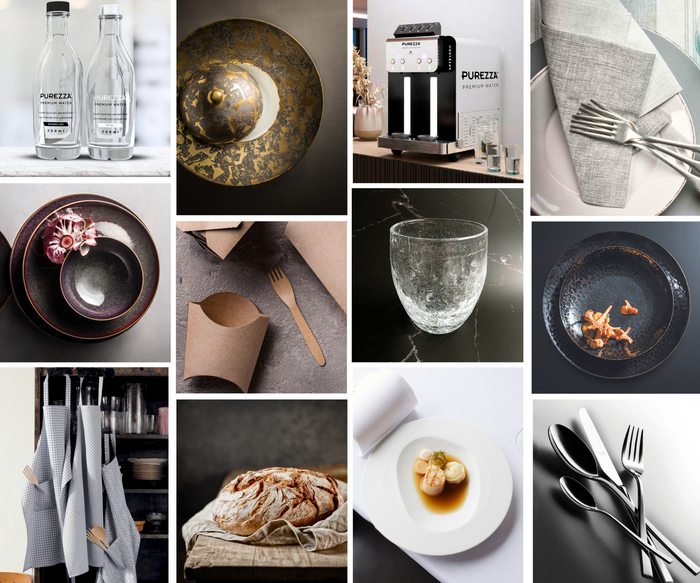 Tableware:
We offer a wide selection of affordable and bespoke solutions for your hospitality needs that create memorable dining experiences for your guests. Our tableware products include plates, glassware, cutleries, chopsticks, table steak knives, linens, disposables, table lamps, bread baskets, pepper and salt mills, cookware, buffet ware and uniforms. Our quality products and dedicated services have led us to close working relationships with leading hotels, restaurants, and catering companies in Singapore.

Sustainable water system:
A modern alternative to pre-packaged bottled water, Purezza is leading the way in providing cost-effective, sustainable, and high-quality water dispensing solutions for hospitality venues worldwide. The Purezza offering can be tailored for your business with system sizes that suit any space and output requirement. Powerful under-bench or countertop options are available, and to ensure your system operates at maximum efficiency, our servicing team is on-hand for maintenance and support.

Biodegradable Food Packaging:
Providing sustainable alternatives for the hospitality industry, Packing Green creates compostable tableware and disposable food packaging made from plants. We offer a wide range of sustainable alternatives to traditional plastic disposable tableware. Our catalogue showcases a spectrum of eco-friendly takeaway containers that combine affordability with extensive choices. Discover our remarkable selection of disposable takeaway containers, coffee cups, bento boxes, wooden packaging, straw paper, cutlery, and disposable paper bags.

Tableware Rental:
Our commitment is to provide you with an extensive range of tableware rental products for all your event catering and party from a single item to any bespoke rental solution and even long-term rental deal. We offer a range of rental equipment that caters to many different event catering: institutional meetings, corporate cocktails, breakfast talks, private dining, home catering, seminars and conferences, reception parties, baby showers, weddings, birthday parties, Chinese new year, Christmas dinner, New year's evening.

Bread & Pastries:
A contemporary artisanal bakery, Maison Kayser started in Paris in 1996 by the renowned baker Eric Kayser with the vision of bringing authentic artisanal bread and pastries around the world. All our bread is prepared, kneaded by hand, and based in-house in Singapore under the careful supervision of our culinary director.