09 Jan 2020
Speciality & Fine Food Asia (SFFA) Announces A Partnership With Singapore Coffee Association (SCA) To Launch New Show Speciality Coffee & Tea Asia (SCTA) In 2020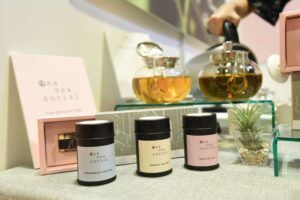 Together with SCA, SCTA aims to carve out a space within SFFA to gather speciality coffee and tea producers from all around the world and grow this fast-developing speciality segment of the food and beverage industry.
SINGAPORE, 9 January 2020 – Speciality & Fine Food Asia (SFFA), Southeast Asia's leading trade show for artisan, gourmet and fine food and drink, announces launch of new show Speciality Coffee & Tea Asia (SCTA) for its fourth edition on 29 September – 1 October 2020.
Organised by Montgomery Asia, and in collaboration with the Singapore Coffee Association (SCA), SCTA hopes to create a platform for speciality coffee bean and tea leaf growers and producers, suppliers, roasters, traders, retailers and café owners to network and develop the industry.
The partnership between Montgomery Asia and SCA came about after talks of a gap in the market for artisanal coffee and tea producers to showcase their gourmet products to the right trade audience. With this strategic partnership in place, SCTA 2020 will play host to a spectrum of exciting new activities organised by SCA such as the Singapore National Coffee Championship 2021. The Championship comprises the Big 5 Coffee Competitions namely the Singapore National Barista, Latte Art, Brewers' Cup, Cup Tasters and Coffee in Good Spirits Championships. Key participating brands include Acaia, Bero Coffee, Bunn-O-Matic, CAFEC, Faema, F&N Magnolia, Mahlkönig, Mazzer, Monin, Oatly, Starbucks, WatchWater and many more, making it the must-attend speciality coffee event in Singapore.
On a regional front, SCTA is also supported by the ASEAN Coffee Federation, who will be holding its 3rd Board Meeting for Year 2020 alongside SCTA. Presidents of the 10 coffee associations and key decision makers from Southeast Asia are expected to take part in the board meeting.
Victor Mah, President of SCA, says, "We're excited to partner with Montgomery Asia on this new segment. With SFFA's strong value proposition of artisan and gourmet food and drink for the Southeast Asian market, we believe SCTA will be a great fit and more importantly, a valuable new platform for speciality coffee and tea companies to elevate their brands and reach the right buyers in the region."
Christopher McCuin, Managing Director of Montgomery Asia, adds, "The coffee and tea industry is evolving quickly and the demand for speciality beans and artisanal tea blends is experiencing exponential growth amongst Southeast Asia's affluent and discerning customers. Coffee consumers are becoming increasingly conscious about their coffee source and quality and more restaurants are partnering with tea brands to create exotic food pairings. There is so much that can be explored in this segment and we're delighted to be working with Singapore Coffee Association, a well-established institution helmed by knowledgeable industry leaders."
Underpinned by an industry for industry perspective, SFFA and SCTA 2020 strengthens its commitment to highlighting the best of this fast-evolving industry, with an elevated focus on promoting the trade of produce from the ASEAN region to support farmers and growers in neighbouring countries. More news on the various activities will be announced in the coming months.
SFFA and SCTA will be held from 29 September – 1 October 2020 at Suntec Singapore, and are co-located with Restaurant, Pub & Bar Asia (RPB Asia).
About Speciality & Fine Food Asia and Restaurant Pub & Bar Asia
Organised by Montgomery Asia, Speciality & Fine Food Asia (SFFA) is Southeast Asia's leading trade show for artisan, gourmet and fine food and drink. Restaurant Pub & Bar Asia (RPB Asia), a co-located show, is the only trade show that caters to the needs of the independent and boutique bars, restaurants, pubs and hotels in the region.
Both shows seek to connect gourmet, innovative and unique food & drink producers and purveyors with decision makers in the retail, foodservice and hospitality sectors, providing companies an excellent platform to discover new trends, expand their business and reach the right buyers. The fourth edition of the shows will be held from 29 September – 1 October 2020 at Suntec Singapore and will feature an expanded programme line-up including fringe events, competitions, as well as a more diverse range of chefs, bartenders and speciality food and drink products and technologies.
About Montgomery Asia
Established in 2016, Montgomery Asia is a fully-owned subsidiary of UK-based Montgomery Group, one of the most widely respected exhibition companies in the world since 1895. It focuses on the growing Asian market, bringing the group's flagship events to this region as well as developing new trade shows that meet the needs of the Asian market.
For exhibiting and sponsorship enquiries:
Doreen Soh
Event Manager
T: +65 9339 6687
E: doreen.soh@montgomeryasia.com
For media and partnership enquiries:
Joyce Khong
Marketing Executive
T: +65 8183 4146
E: joyce@montgomeryasia.com