06 Jul 2021
SFFA, RPB ASIA, SCTA & MPA GOES HYBRID THIS DECEMBER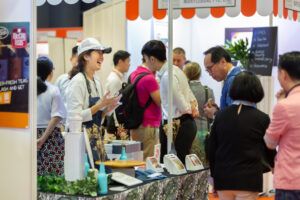 Speciality & Fine Food Asia moves to December 2021
SFFA helps you and your business Restart, Refresh and Reconnect
NEW DATES 8th to 10th December 2021
Suntec Singapore LIVE | Virtual Show (new)
6th July 2021
Montgomery Asia announces new dates for Speciality & Fine Food Asia (SFFA) and its co-located shows namely Restaurant, Pub & Bar (RPB) Asia, Speciality Coffee & Tea Asia (SCTA) and Meat & Poultry Asia (MPA) to December 2021. The business-to-business (B2B) food and drink series of events returns with a brand-new hybrid format that comprises both a physical, in-person event and an online experience that will provide the industry with a refreshing sourcing experience that includes more companies, brands, buyers and sellers to help your business find new products and close essential business deals.
Singapore continues to take very positive steps to progressively resume business operations in a calibrated and safe manner. The accelerated National Vaccination Programme in Singapore gives us the confidence that this date move to late Q4 ensures all participants the best opportunities for success. The 4-in-1 show targets to attract 2,500 in-person visitors and 2,500 virtual visitors from Singapore and across the APAC region.
All registered attendees can access the digital event from 1st December where they can search for new products, plan their visit, schedule business meetings and add preferred workshops, demo sessions and seminars to their calendars.
Restart, Refresh, Reconnect
SFFA and its co-located events is planning a series of webinars on its original dates of 28th to 30th September – industry learning and sharing and a sneak preview of the December events. We are curating some insightful content with our partner associations. More details will be announced in August.
We are truly in awe of the resilience, innovation and understanding that we have seen from so many of our industry peers and understand how important it is to stay connected, safely during this time. We are committed to work closely with the relevant government agencies, trade associations and industry professionals to help keep the community updated, inspired and motivated as we work towards these exciting events.
Keeping Our Industry Peers Safe
Vaccination continues to be one of the key factors to enable Singapore to re-open safely and collectively. Montgomery Asia will work closely with the Singapore Tourism Board (STB) to ensure the physical events are organised with health, safety and business opportunities at their core.
We look forward to your continued support as we prepare to welcome you back this December with refreshed content, innovative products and a new digital platform. Bringing the ASEAN F&B community together.
Kind regards,
Christopher McCuin
Managing Director
Montgomery Events Asia Pte Ltd
Special Thanks to All Exhibitors and Partners
Thank you to our exhibitors and partners who have given your continued support to SFFA 2021 and its co-located events. Do stay tuned for more show updates. We look forward to welcoming you this December – Join us to Restart, Refresh and Reconnect your business.