30 Jun 2020
COMPANY STATEMENT: SFFA & RPB ASIA 2020 ANNOUNCEMENT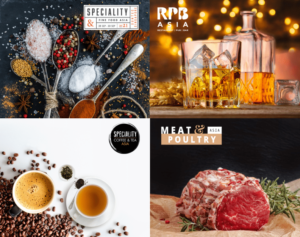 Due to the significant impact coronavirus (COVID-19) is having across the world, Speciality & Fine Food Asia, Restaurant, Pub & Bar Asia and its co-located events namely Speciality Coffee & Tea Asia and Meat & Poultry Asia, the Asia's leading trade show for artisan, gourmet and fine food & drink, will be rescheduled to 28 – 30 September 2021.
The situation is changing daily and the pressure on the whole industry is huge. We have been listening to feedback from our community, as well as information from the recent media announcement from the Singapore Government on the gradual resumption of business activities in phases starting from 2 June 2020. We have therefore taken the difficult decision to reschedule this year's show.
We are truly in awe of the resilience, innovation and kindness that we have seen from so many within our community and understand how important it is to stay connected during this time. We will work closely with the government agencies, trade association and industry professionals to help keep the community updated, inspired and motivated during these difficult times. Over the next few months, we will be launching pockets of new initiatives aimed at helping to connect suppliers with buyers which will announce in due course.
On behalf of all of us here at Speciality & Fine Food Asia, thank you again for your continued support and understanding. We look forward to once again bringing the wonderful artisan food & drink community together under one roof at Suntec Singapore next year.
Stay safe and well!
Kind regards,
Christopher McCuin
Managing Director
Montgomery Asia