30 May 2019
PITCH! returns to SFFA and RPB Asia 2019: Calling for companies and start-ups offering cutting-edge solutions in Tech or Sustainability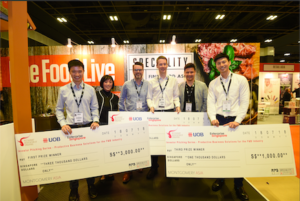 Companies that possess innovative tech solutions or hold the answers to radically transforming sustainable practices are welcome to submit their entries
SINGAPORE, 30 May 2019 – The Investor Pitching Series returns to Speciality & Fine Food Asia (SFFA) and Restaurant, Pub & Bar Asia (RPB Asia) for its second instalment and this year, has been rebranded as PITCH! The competitive series aims to solicit business proposals addressing real-life challenges faced by F&B companies. In return, contestants earn valuable face time and visibility with industry heavyweights, potential investors and mentors – and for the first time, all finalists will receive complimentary showcase space at SFFA and RPB Asia, with the winners garnering a prime spot at the 2020 shows alongside prize money.
PITCH! will offer two different tracks – the first focuses on technology innovations and solutions, and the second centres on sustainable solutions – and both have to be in relation to the hospitality and foodservice industries. The judging panel includes industry leaders such as Cheong Hai Poh, President, International Food and Beverage Association – a non-profit that supports the growth of the F&B industry; Adam Flinter, Managing Partner, Golden Equator Consulting – a digitally focused consultancy that helps companies to learn, to grow and to connect; Lance Frey, Chief Financial Officer, Boost – a fast- growing Edutech company catering to the hospitality industry; Jonathan Hargreaves, Global Vice Chair, Edelman Predictive Intelligence Centre – a partnership between Edelman Singapore and the Singapore Economic Development Board (EDB to research and develop new approaches to communications marketing planning using predictive and intelligent technologies; Andrew Ing, Chief Operating Officer, The Lo & Behold Group – Singapore's leading hospitality company that owns and operates establishments like two Michelin-starred Odette, Tanjong Beach Club, and private members club, Straits Clan; and Elaine Siu, Managing Director APAC, Good Food Institute – a U.S.-based 501 nonprofit that promotes plant-based meat, dairy, and eggs as well as clean meat, as alternatives to the products of conventional animal agriculture
TRACK ONE | 17 JULY: TECHNOLOGY INNOVATIONS AND SOLUTIONS
For companies who have the potential to spark a disruption in the hospitality and food sectors, call for entries are open for companies that possess innovative tech solutions in the following areas:• AI and Robotics
Blockchain Technologies
Business Automation
Digital Apps & Technologies for front-of-house, food preparation and operations
Inventory & Payment Solutions
Integrated Supply Chain
TRACK TWO | 18 JULY: SUSTAINABLE SOLUTIONS
This track is specifically for companies or start-ups who are offering solutions that allow those in the hospitality and foodservice industries to be more sustainable:
Novel Ingredients or Functional Foods (including plant-based, cell-based products)
Food Waste Solutions
Packaging
Process Enhancement (including solutions for converting food manufacturing by-products into
new and usable products)
Urban Food Production
All finalists will receive:
Presence at Pitch! Showcase at SFFA & RPB Asia on 17 – 19 July 2019
Coverage in the event websites, eDMs and social media channels
Coverage in trade and key lifestyle media titles*
Face-to-face exposure with industry movers and shakers
Networking opportunities with F&B brand owners, suppliers and trade buyers who will be present at the shows*
The winner of each track will receive:
Prize money of S$3,000
Complimentary 9m stand with premium product package at SFFA & RPB Asia 2020
Post-show exposure in event websites, eDMs and social media channels
Interview profiling opportunities*
An opportunity to have your ideas or solutions implemented by the industry*
Mentoring advice or further funding for your business*
*whilst every effort is made to maximise your exposure to the judges and industry, the decision to adopt your solution, mentor or fund your business is entirely up to the discretion of the judges and F&B owners.
Entries will be accepted from now until Wednesday, 19 June 2019. Finalists will be announced on 24 June 2019. Latest information about Pitch! is available on https://www.speciality-asia.com/2019-pitch-investor- pitching/.
Applications are open via the following links:
Track One | 17 July: Technology Innovations and Solutions: http://bit.ly/pitch-tech-track
Track Two | 18 July: Sustainable Solutions: http://bit.ly/pitch-sustainability-track
More information about SFFA and RPB Asia can be found here.
Interview opportunities with representatives from Montgomery Asia, the judging panel, and finalists will be available. SFFA and RPB Asia will be held for the third year from 17 – 19 July 2019 at Suntec Singapore.